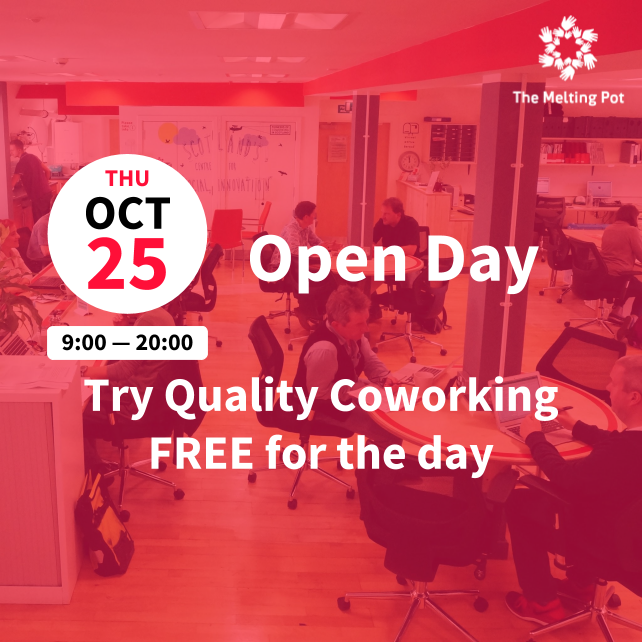 On our Open Days you can experience quality coworking for free. From 9am to 8pm you can visit us for a personalised tour, to meet our community and clear some things off the to-do list!
Can't make this one? Not to worry; they're on the second Tuesday and last Thursday of every month.
There are 2 options on our Open Days: you can book a tour or a full day of coworking.
If you would like a tour of The Melting Pot, book an Open Day tour ticket below. You'll receive a friendly welcome from one of our hosts, have a look around the space and you can ask any questions you have about TMP membership. (Did you know? You can drop in for a tour of The Melting Pot any time we're open - not just on our Open Days)
If you would like a tour of The Melting Pot and to stay and try coworking, book an Open Day tour and coworking ticket. We'll introduce you to our space and our community, then you can hunker down and see if coworking at The Melting Pot is for you. You can stay for up to two hours. We may run out of coworking tickets so book today!
PLEASE NOTE: For the first time in our 11 year history The Melting Pot is full, but not to worry, we're still taking membership applications. We don't expect that it will be long until we can welcome new Members to our community. So, come along to our Open Day, fill out an application form and be added to our waiting list.
Want to know more about TMP membership? Please get in touch with Cleo by email cleo@themeltingpotedinburgh.org.uk or by phone 0131 243 2626.
We hope to see you soon!